AC Service & Air Conditioning Installation Des Plaines & Chicagoland
Reliable Air Conditioning Services & Air Conditioning Installation: Chicago is one of the Midwest states that get to '90s + degrees temperature during summertime, and if your air conditioner system stops working you may feel that your home getting hot and uncomfortable.
Any Season Heating & Cooling Inc. is Chicago best air conditioning company that can help you with: Air Conditioning Repair, AC maintenance, and Air Conditioning installation, we can fix and service all brands of Air Conditioner systems such as:
American Standard Air Conditioners
Carrier HVAC Systems
Goodman Central Air Conditioners
Trane HVAC Systems
Rheem Air Conditioners
Lennox HVAC Systems
York AC Units
Amana HVAC Systems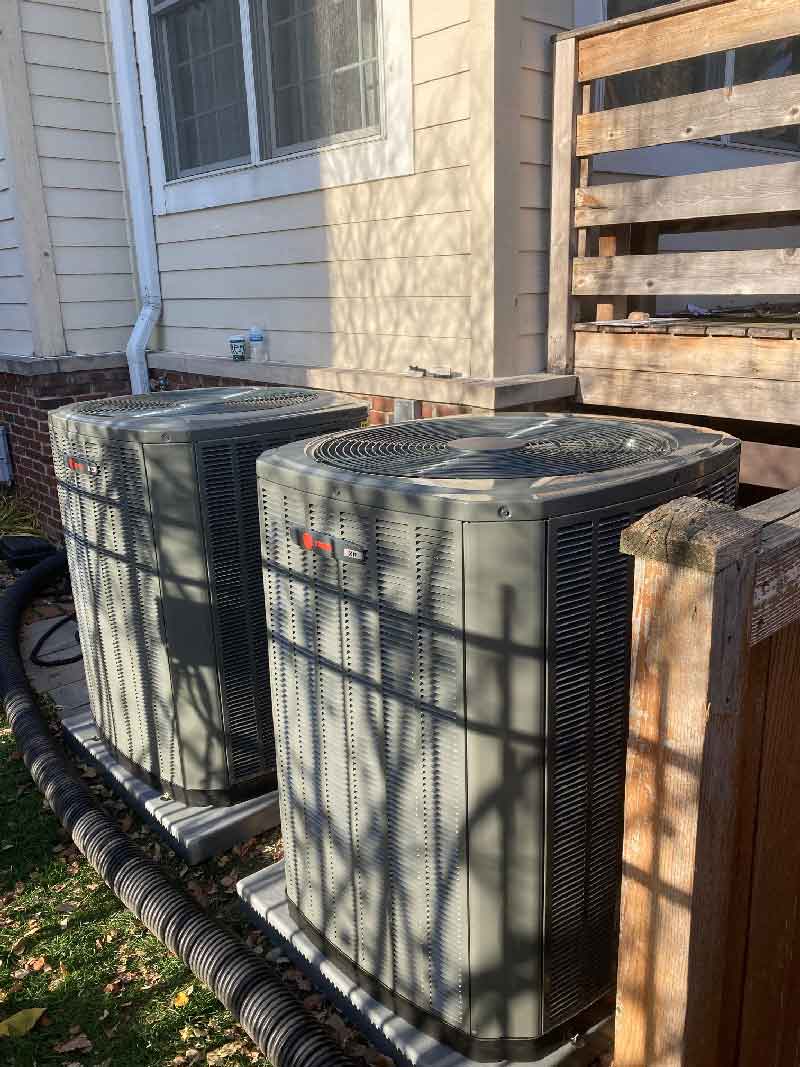 When our HVAC service technicians visit your home, you'll be glad to know that they take great pride in their work and they're fully equipped to handle any air conditioning repair issue.
All of our heating and air conditioning technicians are equipped with booties and shoe covers to protect your home as well as tarps that can be laid down.
We stock many parts in our HVAC service vehicles. However, if we do not have the part needed to service your unit, we have over 30 vendors in town, allowing us to retrieve your part as soon as possible. Our AC repair work also comes with a warranty of at least one year on parts and labor we install!
We know that searching for an honest service HVAC contractor can become stressful. You don't want to get stuck with some cheap and unprofessional air conditioning repairman or air conditioning companies that make you uncomfortable in your own home, installs poor quality or used parts, and is out of business when you call back because the HVAC repair didn't work. Don't worry Any Season Heating & Cooling can help.
The benefit of Using Any Season HVAC Service
We are profound professionals who have the knowledge and skills to repair, service, or install any HVAC system or handle any project from start to end, for both residential and commercial.
At Any Season Heating & Cooling, great service makes our customers feel that we care about developing a long-term relationship that means more than just making a sale or AC repair. When you use our HVAC services be assured that you receiving more than any other service that competitive Air Conditioning companies provide.
Honest and Fare Service Cost.
Professional HVAC Technicians.
Licensed & Insured Contractor.
On-time Arrival & Fast Repair.
Great Customer Service 24/7.
Free Estimate on New Installation.
Full System Air Conditioning Installation.
We Repair all HVAC Systems.
Universal EPA Certified HVAC Contractor.
Trane Authorized Dealer.
American Standard, Goodman, Lennox, Guardian, York, Carrier Installer.
HVAC Inspection & Maintenance
Rely on us with all your AC repair needs, after all, we are the local air conditioner experts. Schedule with us today if you are having trouble with your A/C system and we will get your air conditioner fixed right and you back to your comfort zone today. We are EPA Certified.
Schedule your home appointment online with any Season Heating & Cooling Inc. We are available 24/7.