Just like temperature, having the right humidity level at home matters. Here's how to know yours, and spot possible signs that it may need a fix.
When it comes to feeling more comfortable and saving energy, most people turn to thermostats. But there's another essential factor to consider: humidity.
Just like being too warm or too cold, having a humidity level in home that's too high or too low can have an impact on comfort feeling.
Home Humidity and Air Quality & Comfort?
"Humidity alone isn't the only factor that can affect home's air quality and comfort level, but when it combines with a temperature that's also really high or low, it can be more troublesome," says Eddie Garcia, an HVAC technician at Any Season Heating and Cooling serving Des Plaines IL and Chicago metro.
Take dry winter air as an example. It can cause chapped lips, staticky hair and clothes, and even occasional nosebleeds.
Humid summer weather, on the other hand, can also create annoyances. Mold and dust mites thrive in more humid environments – and both create problems for allergy and asthma sufferers. Plus, we all know how uncomfortable heat and humidity are when they're combined (an effect that Chicago weather reports call the humidex).
In the summer, an air conditioning unit typically helps prevent humidity as it cools your space down. However, an AC unit that is too large for the space and cools the air faster than humidity (water vapors) can be removed from the air can leave a cold and clammy feeling. If that's the case, people may need a dehumidifier or to talk to a qualified HVAC contractor Chicago about other options.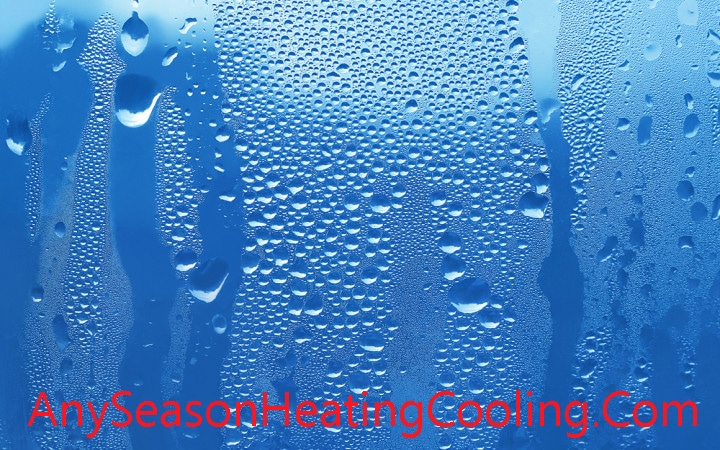 What is the Ideal Humidity? & Signs of Trouble
Every home is different, but a level between 30% and 40% humidity is typically ideal for keeping homes warm and comfortable in the winter, without leaving condensation on the windows. In the summer, that level can be higher, between 50% and 60%.
So, how to know home ideal humidity levels? That's where a device that can measure humidity comes in.
temperature and humidity thermostat
temperature humidity thermostat
thermostat with humidity control
air conditioner humidity setting
Humidity Humidistat VS Thermostat
People may have a humidistat, which lets you monitor and control home's humidity level. Most humidistats are wired to a humidifier mounted right to the gas furnace, or they're located on a wall elsewhere in home.
They look and function a lot like thermostats, but instead of measuring temperature and making adjustments, work or home humidistats measure relative humidity in the air and turn the humidifier on or off in response. Most residential furnaces don't have a dehumidifier function and only add humidity as needed. If the client home is too humid, it might still need a portable dehumidifier to address it.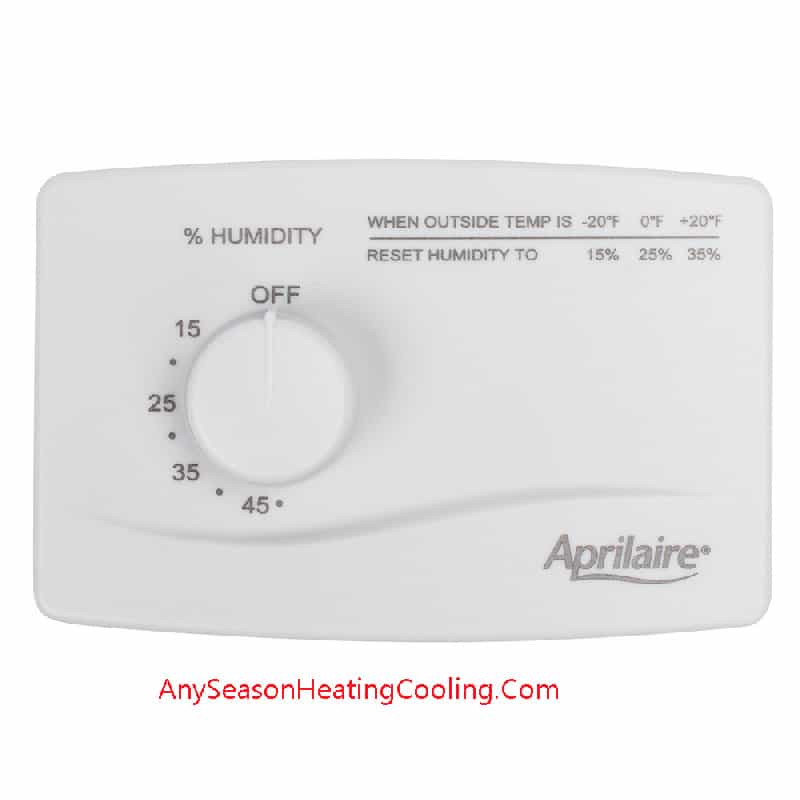 Any Season Heating & Cooling cautions that older wall humidistats are often inaccurate with their readings. On the plus side, most smart thermostats display the humidity level in homes (although they cannot control it). Customers could also pick up a hygrometer, an inexpensive device that helps measure moisture levels in air at home, so customers have the right information to make possible adjustments.
Understanding humidity in home can give people a picture of where they may have opportunities to make places more energy efficient, Any Season Heating & Cooling points out. Once a client armed with the right information, they can take steps to improve whole home comfort and humidity.
What are Programmable Thermostats?
A programmable thermostat stops you from having to manually adjust the temperature during the day and night. You can program the thermostat to be warmer during the day, cooler at night and take the seasonal weather changes into consideration. An HVAC professional from Any Season Heating & Cooling can help you choose the right programmable thermostat and teach you how to use it to best suit your needs.
Programmable & Smart Thermostat Installation
Wireless Thermostats
Google Nest Thermostat
Honeywell Thermostats
Smart Thermostats
Wi-Fi Thermostats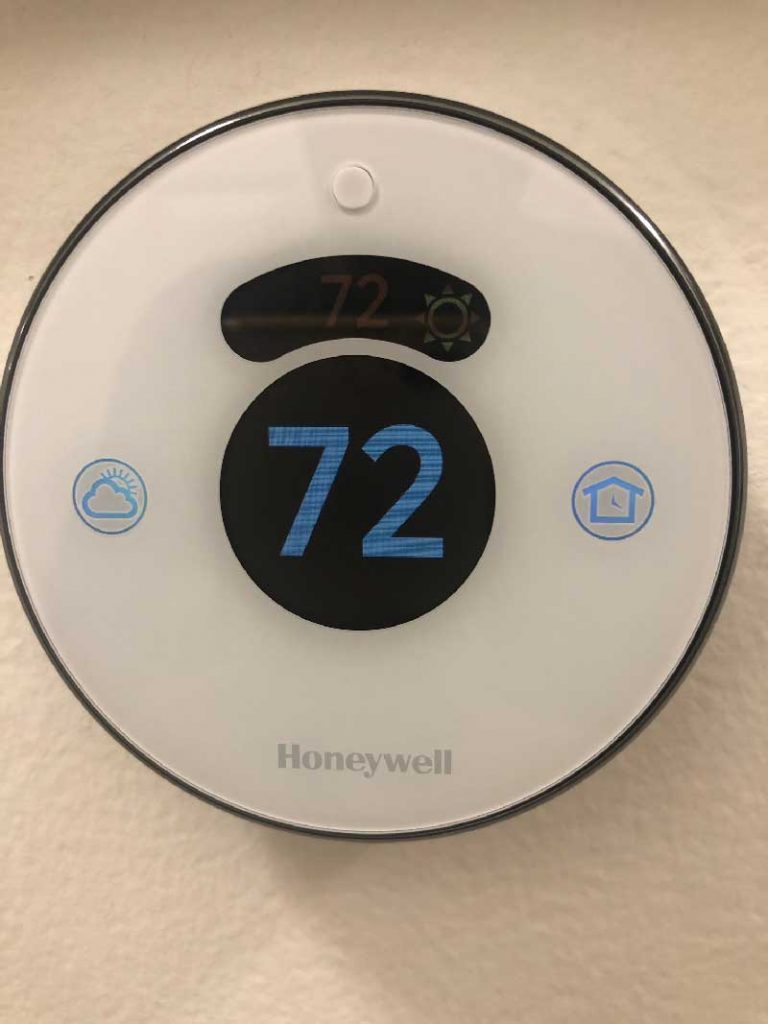 How Much is it to Install Whole Home Humidifier?
We at Any Season Heating & Cooling highly recommend having a licensed and insured HVAC contractors do the humidifier installation even some website advice that you can do it by yourself, you might save $100 or $200, but on the other side you may lose $1000s if you damaged your furnace or cause a water damage to your home,
The average cost of having Any Season Heating & Cooling perform the whole home humidifier installation for you can run in the neighborhood of $500 – $800 for bypass or power humidifier, price including parts & labor. See our HVAC Pricing.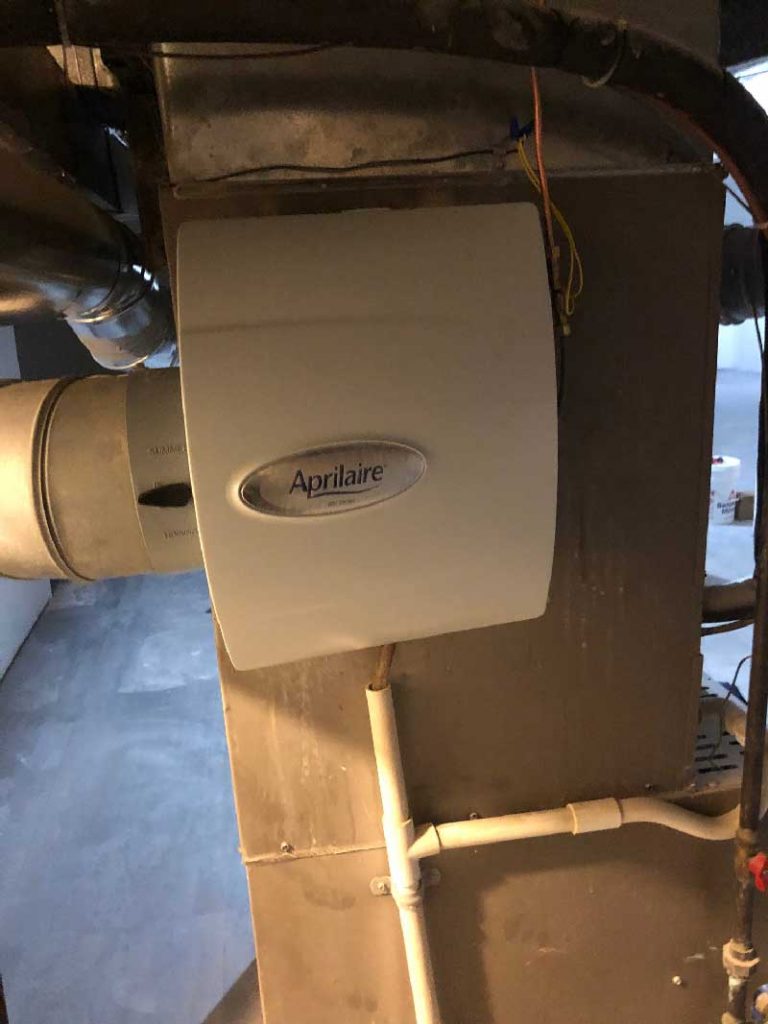 We install Humidifier:
Aprilaire Humidifier
Honeywell Humidifier
Whole Home Humidifier
Power Thermostat
Steam Humidifiers
Bypass Humidifiers
Protect your Wood Floor with Whole Home Humidifier.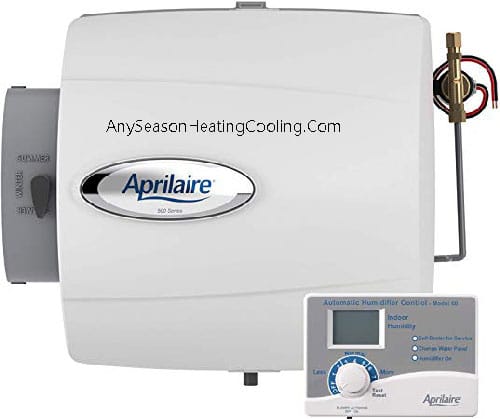 Please feel free to contact us today to learn more about humidity management, thermostats and for any of your heating and cooling needs!