Any Season Heating & Cooling provides expert HVAC services near me at low cost, we are a Family Owned & Operated HVAC company near me serving the northern Chicago land area.
We have served over 10,000 customers with 99% + customer satisfaction, for our family heating and air conditioning company a happy customer is the key for more new customers.
At Any Season Heating & Cooling we take customer concerns, and we make sure to do the job right from the first time.
We are a large HVAC contractor and we have many HVAC systems at low cost, Any Season Heating & Cooling can beat any other heating and air conditioning company's price for the same HVAC equipment type, (Apple to Apple match).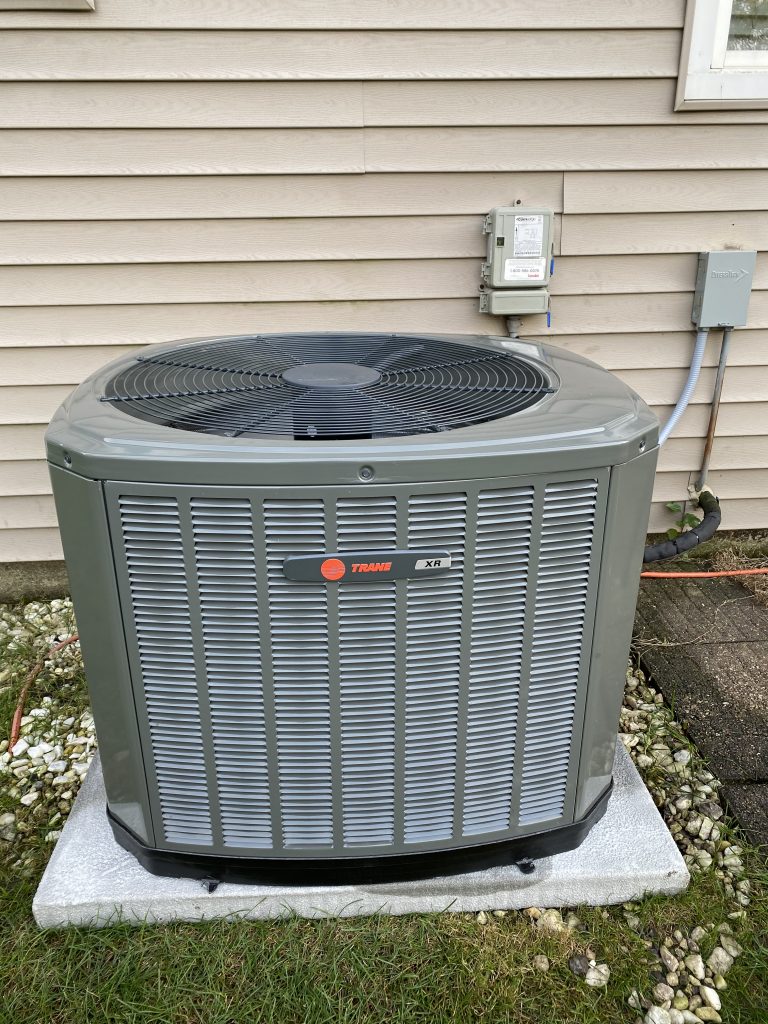 As a full service heating and air conditioning company near me our expert HVAC technicians can assist you with:
Furnace Repair (Gas Furnace or Electric Furnace)
Furnace Replacement or New Furnace Installation
Furnace Service & Maintenances
Central Air Conditioning Replacement or New Home AC Installation
Central AC Repairs
Central Air Conditioners Service & Maintenances
Heat Pump Installation
Humidifier Installation & Humidity Control
UV Light & Air Purification System
Air Cleaners & Air Quality
Residential Water Heater Installation.
Smart Thermostats Installation and more.
Feel Free to Contact Any Season Heating & Cooling 24/7 for all your Heating & Air Conditioning Services Needs, we fix and service all heating and air conditioning systems from all makes and models such as high efficiency gas furnaces to mid efficiency furnaces such as:
Trane Heating & Air Systems
Carrier HVAC Systems
American Standard HVAC Equipment
Lennox Heating & Air Conditioners
Bryant, ICP, Day & Night, Goodman… HVAC Systems.
Affordable Air Conditioning Replacement
As we mentioned above, Any Season Heating & Cooling can beat competitive local heating and air conditioning companies in price and quality work and equipment, we install the best HVAC equipment available in the market today at low cost, all our equipment comes with a full factory warranty as well as labor warranty on our work.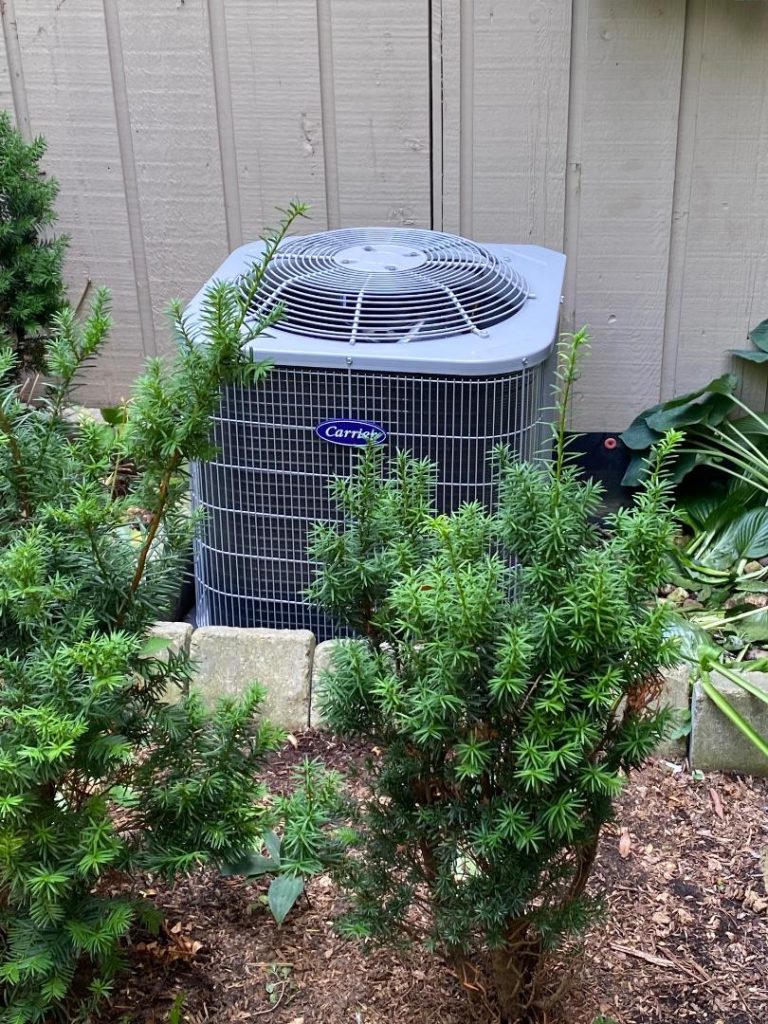 Any Season Heating & Cooling mostly do Furnaces & Air Conditioning replacement or New Central HVAC installation for the following HVAC systems:
Trane HVAC Equipment
American Standard HVAC Equipment
Lennox Heating and Air Conditioning
Day & Night HVAC Equipment
RunTru / Ameristar HVAC Equipment
Feel Free to Contact us now at (847) 766-9654 for Free Binding HVAC Quote.
Residential AC Replacement Size
During Summer time We do a lot of air conditioners installation & replacement, Any Season Heating & Cooling dose purchase many air conditioners systems directly from main factory and we got discounts and air conditioners at low cost in the mostly used AC units in the Chicagoland area as for example:
2 ton AC Units
5 ton AC System
3 ton Air Conditioner
5 ton Air Condition
Above are the most air conditioning systems that have been installed in the Chicago land area and they are good for places that range from 800 square foot to 2000 square foot.
Central Air Conditioning Installation Cost
It is hard to provide a cost for replacing your home AC system, since there are many market and installation options, some AC systems are located in the Attic, some on roof of building, some in basement.
As well there is calculation of size of home, furnace, evaporator coil and AC condenser, all have to be match to work together and provide the best efficiency and comfort for your home, and there is AC systems brands and models such as: 13 SEER, 14 SEER, 15 SEER, 16 SEER …… 22 SEER and more options such as single stage condenser or two stage or variable compressor condenser or heat pump system, Any Season Heating and Cooling Install AC systems from Following brands: Trane, American Standard, Ameristar, RunTru, Carrier, Payne.
Average Cost for New AC Replacement:
(Base on 13 SEER system, Furnace located first floor or Basement and condenser by house side)
2 ton AC Cost ($3200 – $4000)
5 ton AC Cost ($3400 – $4600)
3 ton AC Cost ($3600 – $4800)
5 ton AC Cost ($3800 – $5000)
Feel Free to contact us now at (847) 766-9654 for accurate AC replacement price
New Furnace Installation or Furnace Replacement
Any Season Heating & Cooling can assist you with your central heating system repairs, service or maintenance, and in case there is a need for new furnace installation or likes to replace furnace with better model or better efficiency, we at Any Season Heating & Cooling are the Furnace replacement expert, we have a large selection of electric or gas furnaces that can match any space size from 600 square foot space to 6000 square foot space and from 26,000 BTU to 140,000 BTU furnaces.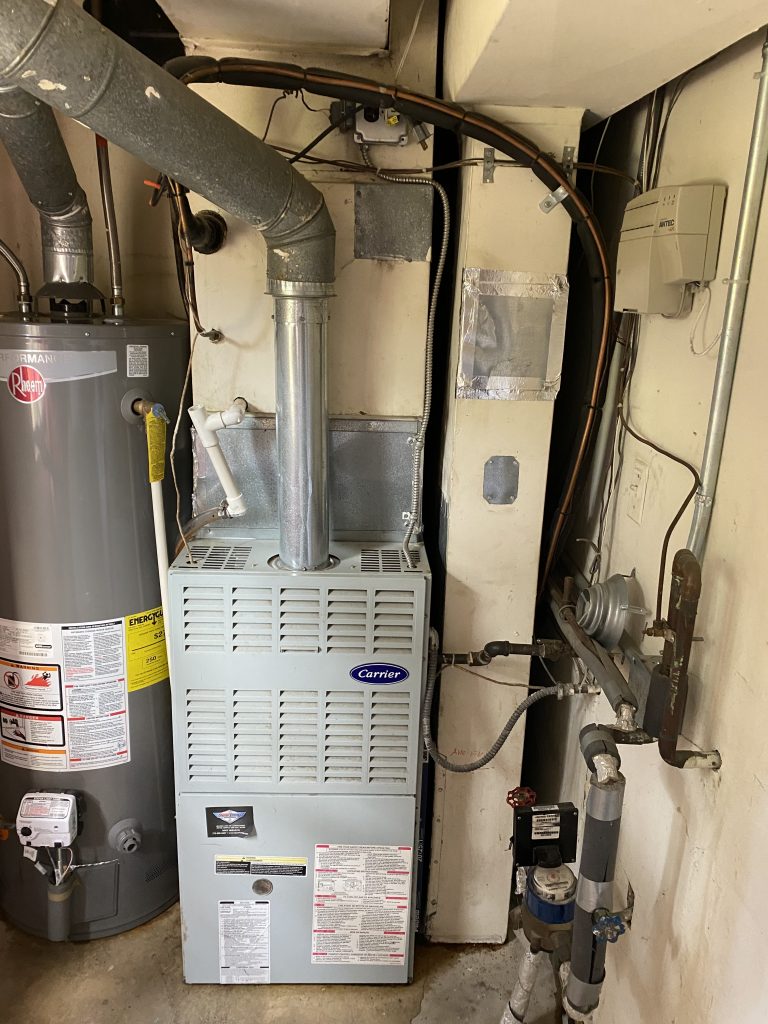 Replacing Carrier Furnace With Trane Two Stage Gas Furnace in Mount Prospect Illinois.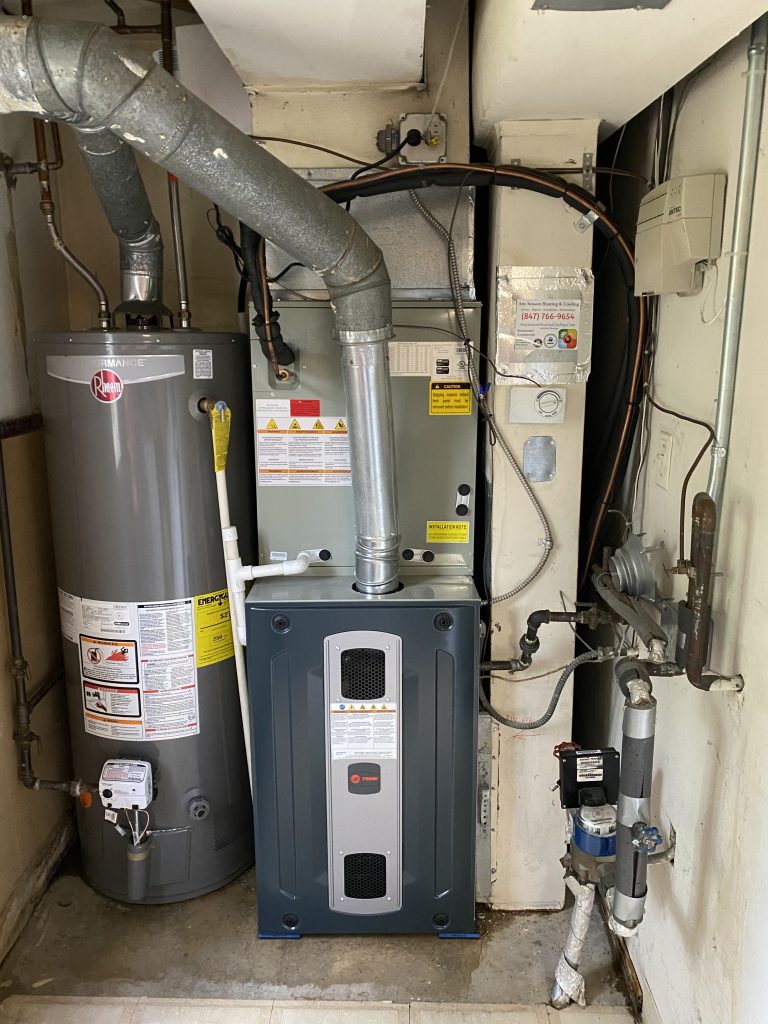 Just contact us today, let us see what you need and we can offer you the best price in the market with the best furnaces, we install: Trane Furnaces, American Standard Furnaces, Ameristar Furnaces, Lennox Furnaces, Day and Night furnaces.
We install mid and high efficiency gas furnaces, as well as accessories that can be added to your HVAC system such as Air Cleaners, UV light and air purification, humidifiers, smart thermostats and more.
Please feel free to contact Any Season Heating & Cooling today for all your Heating and Air conditioning service's needs, Call or Text (847) 766-9654.
We are fully licensed & insured full service HVAC company serving northern Chicagoland area and:  Arlington Heights IL 60004 | Buffalo Grove IL 60089 | Des Plaines IL 60016 | Elk Grove Village IL 60007 | Glenview IL 60025 | Mount Prospect IL 60056 | Niles IL 60714 | Norridge IL 60706 | Palatine IL 60067 | Park Ridge IL 60068 | Prospect Heights IL 60070 | Rosemont IL 60018 | Wheeling IL 60025.
We offer 24 hour heating and cooling Service & Repairs