The expert HVAC technicians at Any Season Heating & Cooling can assist you with all your heating and furnace repair or furnace replacement, we have all the knowledge to repair furnaces and heating systems from all brands and models such as boilers, 80% furnaces, high-efficiency furnaces, electric furnaces and more.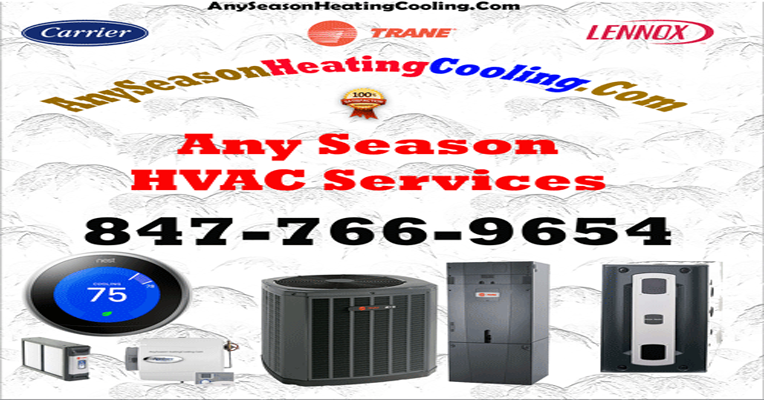 Furnace Replacement or New Furnace Installation.
Our expert furnace installers can do a great job for a furnace replacement or new furnace installation, we work with top HVAC factories such as:
American Standard Furnaces
Lennox Furnaces
Trane Furnaces
Any Season Heating & Cooling can offer a very competitive low-cost furnace installation, with the best labor and parts warranty, all our furnace installation jobs come with 10 years part warranty.
Just call us now at 847-766-9654 and an expert technician can schedule a free in-home survey to look up what heating system is available at your current location and what the best heating or furnace replacement can fit your place.  
HVAC Services During Covid-19 Situation
We all know how hard the Covid-19 pandemic situation is on all of us, we limit our service as much as we could and made a lot of steps for our and your safety, by keeping social distance, wearing protective masks and gloves, using spray and hand sanitizer, because we care about the safety of yours and ours.
One thing that we are worried about and maybe customers should know about it if they planning on replacing the furnace or heating system is to act fast before winter due to the limit on supply and equipment stock.
Many HVAC supplies warehouses and HVAC stores are already out of stock on a lot of furnaces and specific models.
Our advice is to act now and not wait till wintertime, prices may go up and you may need to wait sometime before the HVAC contractor can find the heating or furnace replacement that can fit your place and budget.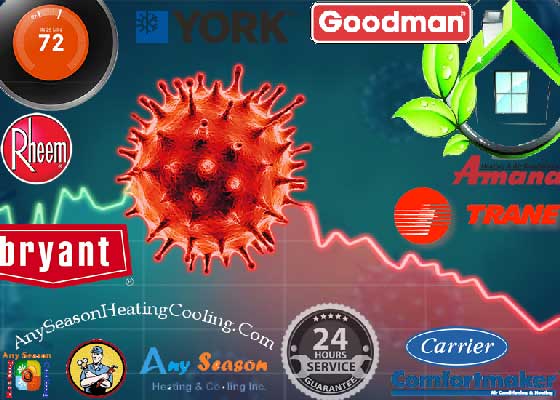 24 Hour Heating & Cooling Service in Chicago's Metro
Any Season Heating and Cooling Company have been offering high-quality air conditioner, boilers, and furnace replacement & service in Chicago's metro for a long time.
Our principles of integrity, honesty, collaboration, and responsibility direct all of our activities. As a result, we are the only Illinois HVAC company in the Chicago area to win the Top Business List Gold Award.
Top Business List has recognized us with its Wonderful Service Awards from 2020 through 2017. Furthermore, Any Season Heating & Cooling Company got the best ratings at HomeService.org and the Best Businesses Organization.
We're also certified by the Environmental Protection Agency. When you choose us, you will have access to 24-hour Emergency Heating and Cooling service, expert HVAC-qualified contractors, and durable Trane, American Standard, Lennox, Carrier, Rheem, and York heating and cooling parts and products.
New HVAC Installations
Considering replacing an existing Heating & Cooling system in your workplace or residence, Any Season heating & Cooling can assist.
Our HVAC contractors are a team containing highly trained Heating & Air Conditioning unit installers who are licensed & insured for our client's protection.
Allow Any Season HVAC Company to work with you to choose the right Heating and Cooling system that will provide your home or workplace with year-round comfort.
Any Season offers Air Purifier Installation at a low cost.
Reliable & Affordable Furnace Replacement
For Reliable & Affordable Furnace Replacement; Please feel free to call or contact Any Season HVAC Company for all your HVAC services needs at (847) 766-9654 or fill out our online Heating and Air Conditioning services form.
Follow Us on Social Media: Google Maps | Facebook | Twitter | LinkedIn | Facebook