Welcome to Any Season Heating & Cooling – Your Premier HVAC Partner in Des Plaines!
At Any Season Heating & Cooling, we take immense pride in revolutionizing your home comfort experience in Des Plaines.
With an unwavering commitment to excellence and a team of seasoned HVAC experts, we bring you unparalleled solutions that go beyond traditional heating, ventilation, and air conditioning services.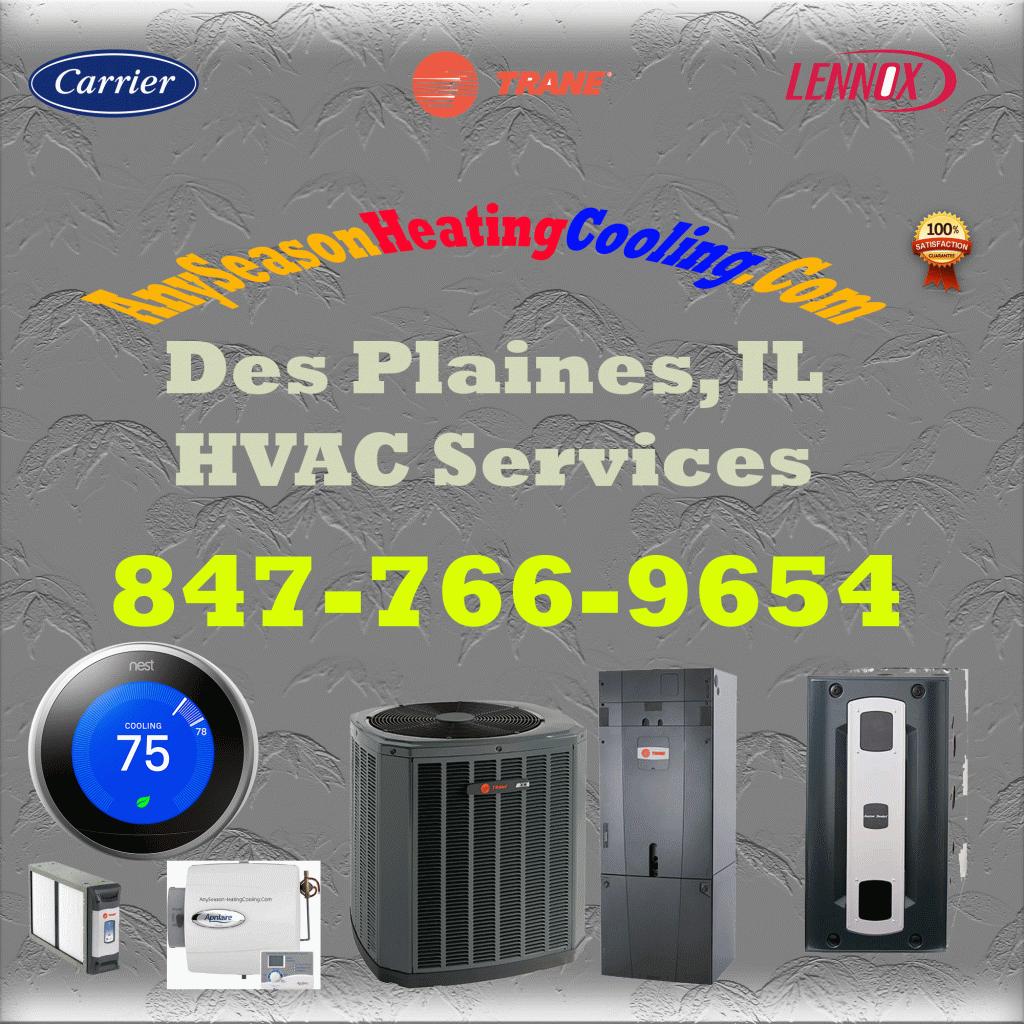 Unraveling the Des Plaines Difference
Understanding Des Plaines Climate
Nestled in the heart of Cook County, Des Plaines experiences diverse weather patterns throughout the year. From scorching summers that demand efficient cooling solutions to chilly winters necessitating top-notch heating systems, we comprehend the unique challenges that homeowners face.
Tailoring HVAC Solutions to Your Needs
Our approach revolves around your individual requirements. We don't believe in one-size-fits-all solutions. Our experts collaborate closely with you to analyze your home's specific needs, layout, and budget constraints before crafting a tailor-made HVAC strategy that guarantees optimal comfort and energy efficiency.
Our Comprehensive HVAC Services
1. Heating Services
When winter arrives, you deserve a cozy haven. Our heating services encompass a wide array of options, including:
2. Cooling Services
Beat the summer heat with our cutting-edge cooling solutions:
Duct cleaning and sealing for enhanced efficiency
Energy-efficient cooling systems
3. Indoor Air Quality
Breathing clean air is non-negotiable. Our indoor air quality solutions encompass:
Humidifier and dehumidifier services
Ventilation system maintenance
4. Energy Efficiency Insights
We believe in saving both your comfort and the environment. Our experts provide insights on optimizing energy usage, reducing utility bills, and lowering your carbon footprint, all without compromising on comfort.
Our Unparalleled Advantages
1. Expertise You Can Trust
With decades of experience, our HVAC professionals are at the forefront of industry knowledge. We stay updated with the latest advancements to bring you the best solutions.
2. Customer-Centric Approach
Your satisfaction is our priority. From the initial consultation to post-installation support, we're here for you every step of the way.
3. Unmatched Quality
We source our HVAC systems from top manufacturers, ensuring that you receive reliable products that stand the test of time.
The Any Season Heating & Cooling Difference
Experience the pinnacle of home comfort in Des Plaines with Any Season Heating & Cooling. Say goodbye to discomfort and inefficiency – our HVAC solutions are designed to elevate your living spaces and make every moment at home truly enjoyable.
HVAC solutions in Des Plaines
When it comes to HVAC solutions in Des Plaines, Any Season Heating & Cooling is the name that shines brightly. Our commitment to excellence, tailored strategies, and dedication to your comfort set us apart.
Join the ranks of satisfied homeowners who have experienced Any Season Heating & Cooling difference. Contact us today to embark on a journey to ultimate home comfort!
Follow Us on Social Media: Google Maps | Facebook | Twitter | LinkedIn | Facebook