AC Replacement Service in Chicagoland area: An Overview
Are you looking for a professional AC replacement service in the Chicagoland area? Any Season Heating & Cooling will be your best choice for all HVAC service providers in the Chicagoland area.
An air conditioning system is a critical component of any modern home or commercial building. It provides the necessary cooling, ventilation, and humidity control to maintain comfortable indoor temperatures and air quality.
But like any other mechanical system, an air conditioner will eventually reach the end of its service life and need to be replaced. In such situations, it is essential to have access to a reliable and professional AC replacement service.
Why Replace Your AC System?
There are several reasons why you might need to replace your air conditioner, including:
Age: Air conditioners typically last between 10 and 15 years, after which they may start to experience problems that are costly to repair.
Replacing an old AC system with a new and efficient one can save you money in the long run.
Performance issues: If your AC system is not functioning efficiently, it can be a sign that it needs to be replaced. Poor performance can result in increased energy costs, reduced indoor comfort, and higher repair costs.
Costly repairs: If your AC system is frequently breaking down and requiring expensive repairs, it may be more cost-effective to replace it with a new one.
Energy efficiency: If your AC system was installed several years ago, it may not meet current energy efficiency standards. Upgrading to a new, high-efficiency air conditioner can reduce your energy costs and help protect the environment.
Choosing the Right Professional AC Replacement Service
When it comes to selecting a professional AC replacement service, it is important to choose a company that has the experience, expertise, and equipment to get the job done right.
Here are some factors to consider when choosing an AC replacement service:
Licensing and certification: Make sure the HVAC company you choose is licensed and insured to perform AC replacement services. Additionally, look for a company that employs technicians who are certified by recognized organizations, such as the North American Technician Excellence (NATE) or the Air Conditioning Contractors of America (ACCA).
Experience and reputation: Look for a company with a proven track record of providing high-quality AC replacement services. Read reviews from past customers to get a sense of the company's expertise, customer service, and overall reputation.
Equipment and materials: Make sure the company you choose uses high-quality equipment and materials to replace your AC system. This will help ensure the longevity and efficiency of your new system.
Warranty: Look for a heating and air conditioning company that offers a warranty on its AC replacement services, as well as a warranty on the new AC system itself. This will provide peace of mind and protection in the event of any defects or problems with the new system.
Customer service: Finally, choose an AC company that is dedicated to providing excellent customer service. Look for a company that will listen to your needs and provides you with personalized recommendations for your AC replacement.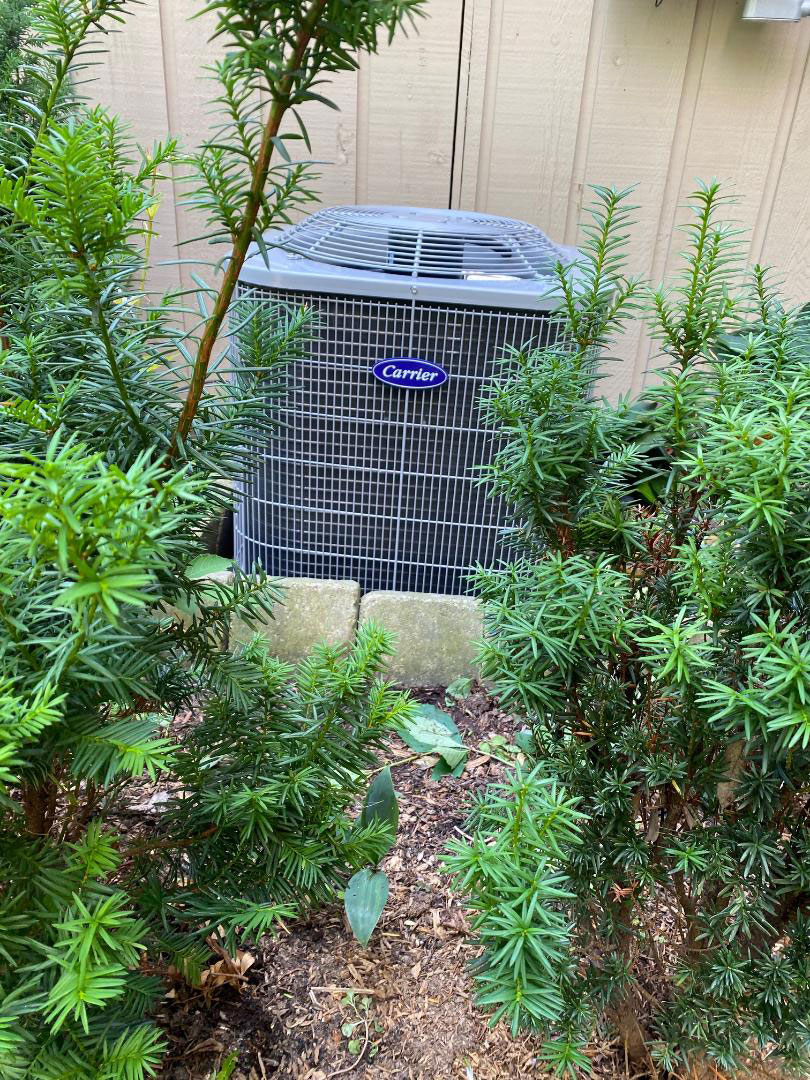 The AC Replacement Process
The process of replacing an AC system typically involves several steps, including:
Initial consultation: The first step in the AC replacement process is to schedule a consultation with a professional AC replacement service. During this consultation, the technician will assess your needs, inspect your current system, and provide you with a quote for the replacement.
Removal of the old system: Once you have decided to proceed with the AC replacement, the technician will remove the old system, taking care to minimize disruption to your home or business.
Installation of the new system: The technician will then install the new AC system, taking care to properly size the system and ensure that it is installed correctly for optimal performance.
Testing and commissioning: Once the new furnace is installed, the technician will test and commission the system to ensure that it is working properly and efficiently. This includes checking the furnace's performance, checking for proper ventilation, and ensuring that all safety features are functioning correctly.
Final walk-through: After the new furnace has been installed and tested, the technician will conduct a final walk-through with you to ensure that you are satisfied with the work that has been done. During this walk-through, you will have the opportunity to ask any questions and address any concerns you may have.
Benefits of Professional Furnace Replacement Services
There are many benefits to choosing a professional furnace replacement service, including:
Improved indoor comfort: A new and efficient furnace can provide improved indoor comfort, helping you stay warm and cozy during the cold winter months.
Increased energy efficiency: A new and efficient furnace can significantly reduce your energy costs, as it will use less energy to heat your home or business.
Improved safety: A professional furnace replacement service will ensure that your new furnace is installed and tested properly, which will help to reduce the risk of fire, carbon monoxide poisoning, and other safety hazards.
Increased longevity: A new furnace installed by a professional service will last longer and require less maintenance than an older or poorly installed system.
Peace of mind: Finally, choosing a professional furnace replacement service will give you peace of mind, knowing that your new furnace has been installed and tested properly and that you have the support of a reputable and experienced heating and cooling company if you encounter any problems in the future.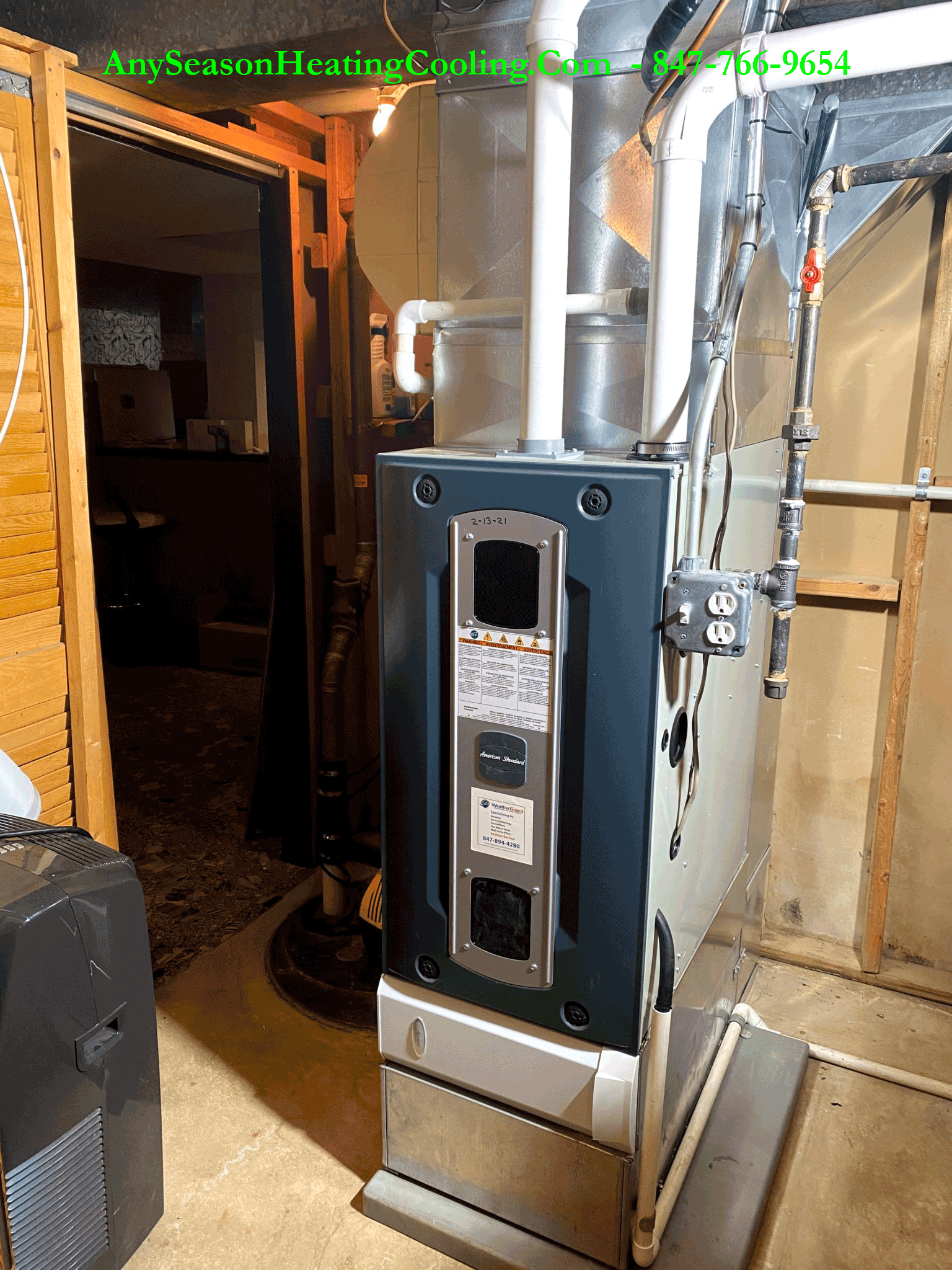 Professional HVAC Contractor for All your HVAC Replacement needs.
Any Season Heating & Cooling is a professional heating and air conditioning replacement service provider that is essential for ensuring that your heating and cooling system is functioning efficiently and safely.
By choosing a reputable and experienced HVAC service, you can enjoy improved indoor comfort, reduced energy costs, and peace of mind.
So if you are in need of a new furnace or central AC system, be sure to choose a professional AC & furnace replacement service company such as Any Season Heating & Cooling to get the job done right.
For an Expert Furnace Replacement and a professional AC replacement service in the Chicagoland area! Call Any Season Heating & Cooling now at (847) 766-9654.